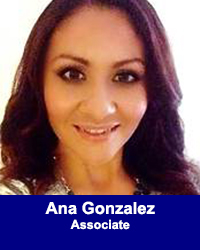 Ana Gonzalez is a progressive leader within the Public and Community Affairs industries with over 15 years of direct experience with non-profit and housing counseling agencies.  Guided by her commitment to community, Ana has navigated a unique career trajectory in both private and public sectors.
In the public sector, Ana served as a consultant and partnered with various non-profit organizations and found her home with Neighborhood Housing Services of Orange County (NHSOC).   During her service with NHSOC Ana built the foundation for their prevailing housing preservation program and became a founding member of the Orange County Housing Collaborative.  Being recognized as a subject matter expert, she contributed to various media outlets and campaigns. Most notably is her work on the Anti-Scam campaign in collaboration with the Federal Trade Commission.
Ana also served the private sector as the Assistant Vice President of the Office of Community Affairs for U.S. Bank.  Focusing on Housing Initiatives, Ana successfully managed programs, grant administration, and served as a government relations liaison for housing related legislation across a 25 state footprint.  She also represented the bank internally as a member of the Diversity and Inclusion Committee and Community Reinvestment Funding Committee.
Ana currently serves as Board Secretary for the Housing Opportunities Collaborative, Committee Member of the Orange County Veteran Housing and Homeless Working Group, Board Member of Orange County's Youth and an Advisory Member of Women in Diversified Services.  Previously Ana was a contributing member to community initiative taskforce groups with both Congresswoman Loretta Sanchez and Senator Lou Correa and past Board Chair of Neighborhood Housing Services of the Inland Empire.  Ana's unwavering commitment to community was recognized in 2014 when she was awarded the Woman Making a Difference Award, representing the 34th District of Orange County.
Ana holds a Bachelor's Degree from Chapman University majoring in Pre-Law.  An Orange County Native, Ana is a proud mother of two and happily resides in Santa Ana.