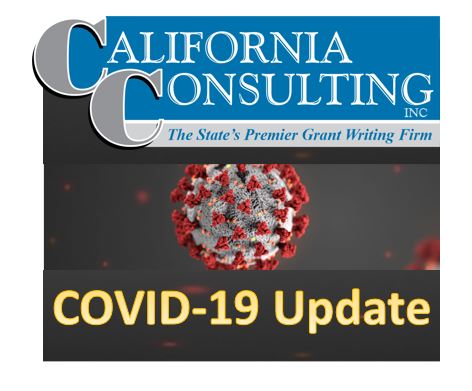 Dear California Consulting Clients and Friends:
We recognize the impact and uncertainty that the Coronavirus disease (COVID-19) is creating in communities across the state and our hearts go out to all who are affected. Our first and foremost concern is for the health and safety of our team members, our clients, and our communities.
You may not know that California Consulting has operated primarily as a virtual organization for 5 plus years. We realized that providing an opportunity to work from home not only made our company more green it contributed to happy employees and a safe and efficient work environment to better serve our clients. Our team members enjoy writing grant applications and helping clients from their respective home offices. We could have never guessed the current circumstances, however, it's primarily business as usual for us at California Consulting and we are fully equipped with the best resources to support our clients, no matter where we are.
Of course, the impact of COVID-19 makes certain adjustments to our daily operations necessary and in accordance with the CDC guidelines we are making the following changes effective immediately :
California Consulting Grant Writers will shift all in-person meetings to conference/ video calls.
California Consulting Business Development Team will follow suit and move their in-person meetings to teleconference calls as well.
We have ceased attending all trade shows, events, and industry events until further notice.
California Consulting is minimizing all business travel. We will make adjustments for essential trips as information becomes available and on an as-needed basis to best serve our clients.
For 16 years we have had the privilege of working with public and private entities across the California landscape who share a common interest to promote and improve the quality of life for everyone. We are grateful to our clients including many cities, school districts, special districts, non-profits, and others for demonstrating confidence in our grant writing work over the last 16 years and we will continue to work hard to keep your trust. The work we do with each of you is so important and our commitment to excellence remains the same. Please stay healthy everyone.