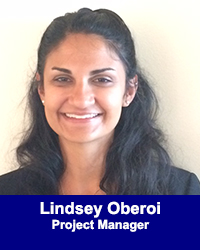 Lindsey Oberoi joins California Consulting as a project manager.
Lindsey holds a Bachelor's in Communication from San Diego University and a Master's in Business Administration with an emphasis in Nonprofit Management from Brandeis University in Waltham, Massachusetts.  Her professional experience includes working in the legal, marketing and nonprofit fields.
While obtaining her graduate degree, Lindsey interned with and consulted for several nonprofit organizations including the United Way, Volunteers of America and YouthBuild USA. Lindsey has written grants for several nonprofit clients, and over the last several years helped to secure and sustain revenues of over $1 million dollars in private and government grant funding for a social services organization in the region.
During her free time, Lindsey enjoys hiking, yoga, and spending time with her family. She resides in North County San Diego with her husband and baby boy.