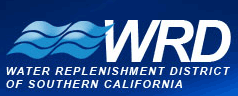 California Consulting is pleased to welcome Water Replenishment District of Southern California as our Newest Client. The Water Replenishment District's mission is to provide, protect and preserve high-quality groundwater through innovative, cost-effective and environmentally sensitive basin management practices for the benefit of residents and businesses of the Central and West Coast Basins.
With the continual population increase of the region, it becomes even more important to maximize the use of both imported and local water sources available to the WRD.
The WRD manages groundwater for nearly four million residents in 43 cities of southern Los Angeles County . The 420 square mile service area uses about 250,000 acre-feet of groundwater per year, which equates to nearly 40% of the total demand for water. The WRD ensures that a reliable supply of high quality groundwater is available through its clean water projects, water supply programs, and effective management principles.
If you would like to learn more about WRD's individual water projects and programs, please go to their website at www.wrd.org .