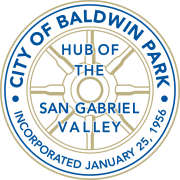 CC LLC congratulates the City of Baldwin Park (a CC LLC client) for being awarded National League of Cities in the amount of $25,000 from the National League of Cities-Combating Hunger through Afterschool and Summer Meal Programs (CHAMPS).
Baldwin Park's Department of Recreation and Community Services demonstrates plans to launch a pilot afterschool meal program, coordinate a marketing plan to promote year-round access to meals, and long-term goals of exploring the sustainability of both programs.
This latest achievement is another example of the commitment of the City of Baldwin Park's leadership to promote the quality of life for its residents.
It's also a reflection of the dedication and hard work by CCLLC Project Manager, David Marquez, who ensured a successful grant application.
Thank you David and congratulations City of Baldwin Park!
Los Angeles County Division League of California Cities
Gateway Cities Council of Governments
Southern California Council of Governments SCAG
California Contract Cities Association