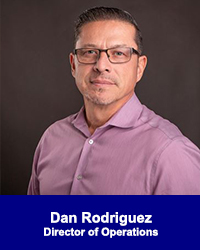 Dan Rodriguez, Director of Operations 
Dan Rodriguez is California Consulting. Inc.'s Director of Operations. Prior to California Consulting, Dan held various positions as government relations with municipalities and agencies specializing in business development and investor relations consulting, a former Los Angeles County Business Federation (BizFed) Business Development and Investment Relations Consultant, and as CEO for the Boys and Girls Clubs for Brea-Placentia-Yorba Linda for 7 years. He also served as volunteer Board Chair for Pomona Valley Boys & Girls Club.
A former elected official for the City of Pomona and appointed Vice-Mayor where he co-chaired the Mayor's Violence Prevention Task Force resulting in the formation of the Pomona Youth Commission and the Pomona's Youth and Family Master Plan. Prior to being appointed Vice-Mayor, Dan was employed with the Pomona Unified School District as a High School Police Officer and Child Welfare & Attendance Manager and Superintendent Special Liaison for over 15 years.
Dan earned his Master's Degree in Organizational Leadership & Development, 2005, Biola  University, La Mirada, CA and is pursuing Biomass Broker License and Blockchain Certification.