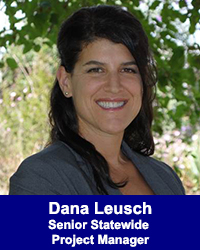 Dana Leusch Our Statewide Senior Project Manager joined our team in 2012. Dana has 20 years of experience in grant writing for non-profit organizations, municipalities, and K-12 public school districts. Prior to working as a grant writer, she worked as a county government reporter for a major newspaper chain and as a freelance journalist for newspapers and magazines.
As development coordinator for a Montana organization serving at-risk youth, her successful fundraising led to the creation of a home for at-risk girls, which has housed hundreds of teens in need.
Since joining the California Consulting team, her awarded grants, totaling more than $20 million, have included the Prop. 68 California Statewide Parks Program, California Math and Science Partnership, Land and Water Conservation Fund, U.S. Dept. of Education Elementary and Secondary School Counseling Grant, U.S. Dept. of Education Rural Tech Project, California Dept. of Education Learning Communities for School Success Program, U.S. Dept. of Justice COPS STOP School Violence Prevention Program Grant, among many others.