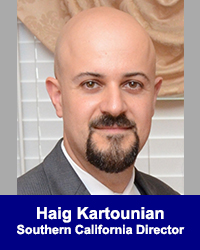 Haig Kartounian has extensive experience in the public sector that spans over a decade. He began his career as Deputy District Director for policy and appropriations at Congressman Adam Schiff's district office. He synchronized legislative efforts from conception to enactment, liaised with government agencies, organized community outreach events, and advising the Congressman on issues ranging from federal funding initiatives, international relations, transportation, and the environment. In 2010-2011, Mr. Kartounian advised the U.S. Department of State's diplomatic mission in the Middle East on governance, infrastructure development, public diplomacy, and linguistics. Most recently, Haig served as Deputy Director of External Affairs for State Controller John Chiang. His responsibilities included partnerships with state and federal agencies for financial awareness, fraud prevention, and tax seminars, in addition to assignments that increased the transparency of public institutions.
Haig's professional experience includes assignments with the U.S. Department of Commerce, U.S. Department of Justice, Superior Court of California, Los Angeles County Registrar Recorder, and the Los Angeles World Affairs Council.
Haig holds a Bachelor of Arts in Political Science from the California State University, Los Angeles, a Master of Arts in International Studies from the Claremont Graduate University, and a Master of Business Administration from Pepperdine University's Graziadio School of Business and Management.