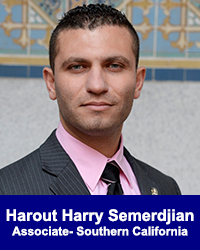 Harout Harry Semerdjian is California Consulting's Associate- Southern California. Harout is responsible for working with clients and potential clients in the Southern California region.
Prior to California Consulting, Harout Harry Semerdjian was a public policy professional and foreign policy expert with experience in government and legislative affairs, and non-profit management, and academia. Harout comes from the Office of Los Angeles Councilmember Mitch O'Farrell, where he served as a Legislative Deputy with a primary focus on public safety, innovation & technology, and human relations.
His past positions include Program Analyst for SOS International LTD, a U.S. Department of Defense contract firm in Washington D.C., Executive Director of the KNOW Genocide coalition, a human rights-focused non-profit organization in Boston, MA, and Research Associate at Harvard University's Kennedy School of Government.
Harout is an active community member in Los Angeles. He has served as a Board Member of the East Hollywood Neighborhood Council and currently serves on the Government Relations Committee of the Armenian National Committee of America – Western Region.Harout holds B.A. and M.A. degrees in modern History from the University of California, Los Angeles (UCLA) and an M.A.L.D. from The Fletcher School of Law & Diplomacy at Tufts University.
He has also been a PhD scholar at the University of Oxford, St. Antony's College. Harout's academic specialization includes global energy geopolitics, counter-terrorism and security studies, human rights, and regional affairs (Middle East and Eurasia).