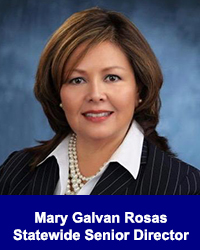 Mary Galvan Rosas is California Consulting's Statewide Senior Director.
Mary's career has covered managing government relations with local, and state leaders for over 20 years. In addition, her expertise to position her employer/client with key community stakeholders as a trusted partner to create effective policy in priority areas has placed Mary in top positions across California.
Mary's career in alliance development spans across the Western Region of the United States mobilizing community groups on issues in the fields of energy, health, and community engagement. In addition, she was a gubernatorial appointee by Governor Arnold Schwarzenegger to serve as Deputy Director of the California Department of Consumer Affairs Division (CCED). Here she led a team of 120 with five offices across the state to promote fraud prevention programs by engaging local municipalities and community leaders.
Her community involvement includes serving as a Commissioner for the Los Angeles County Department of Public Social Services, Board Secretary for Latinas Lead California PAC and Vision Y Compromiso, a statewide organization providing training to promotores that deliver services to low-income communities.
Mary was born and raised in the San Fernando Valley and is a resident of Granada Hills, CA.