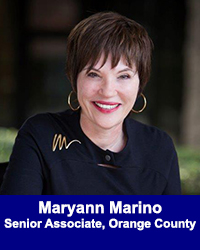 Maryann Marino has over twenty years of hands on experience in public relations services, media relations and public affairs advisory services working as a consultant after she left the public affairs office of the California Department of Social Services, where she served for five years as part of Governor Pete Wilson's administration.   Prior to serving in state government, Maryann was the government affairs officer for an inner city disproportionate share hospital and did political fund raising. She has directed statewide multi-media campaigns, led crisis management efforts, developed image branding for organizations and issues and provided political advocacy services.
Maryann has received national recognition from the American Tort Reform Association for her collaborative effort with the development industry to educate homeowners about alternatives for settling construction disputes.  She also received the Ruby Slipper Award, on two separate occasions, from the Building Industry Association of Orange County.
Maryann Maloney earned a B.S. degree in business administration from the University of Southern California and is a graduate of the CORO public affairs program. She serves on the St. Francis Medical Center Foundation Board of Directors. She is a member of the Orange County Public Affairs Association and the Orange County Business Council.