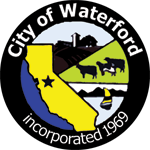 The Active Transportation Program Grant was awarded to the City of Waterford in the amount of $946k.
The City of Waterford's leadership has aligned this grant award with its vision to improve the quality of life for its residents.
Waterford's Safe Routes to School Project will improve a 1,910 linear foot stretch on the north and south sides of State Route 132 (Yosemite Blvd.) between Reimway and Eucalyptus Avenues. Improvements will include six streetlights, upgrades to four-way crosswalks, lighting, curbs, gutters, and sidewalks to create a safe, ADA-compliant route for pedestrians and cyclists to safely travel to/from school, for visitors and residents to access businesses along Yosemite Boulevard, and for all to have an improved route of travel.
California Consulting Grant Writing Specialist, Julie St. Jean, and Cecily Harris worked side by side with Waterford's staff to write a successful application.
California Consulting forms wonderful partnerships with our clients to produce the highest quality application for optimum results.